Wills and Inheritance Tax Planning
---
Life can change in a matter of seconds. The coronavirus outbreak has prompted a surge in demand for urgent advice on will writing, inheritance tax planning. When you die you may want your estate to pass onto your loved ones without having to pay inheritance tax ("IHT"). Inheritance tax planning (which usually includes writing a will) is all about being prepared for the unexpected.
Many people are unaware that accountants, such as our specialists at P & Co, can help clients draw up a will and are fully licensed to provide inheritance tax planning and probate services. It is therefore important to choose an accountant who specialises in inheritance tax planning and probate (the right to deal with a deceased person's estate).
---

---
---
With the help of P & Co, you can provide financial and practical support for your family so they receive the greatest benefit from your estate. We can:
advise you on inheritance tax planning
write your will to reflect that advice
act as executor or administrator
provide probate services and distribute your estate to the beneficiaries
Why Choose P&Co?
As an UK accountancy firm focused on the oriental market, P & Co offers a comprehensive estate planning and probate service that includes will writing, inheritance tax planning and probate services. Our team comprises of qualified accountants with an Asia and UK background who share your culture, language and community and truly understand your needs.
Download Our Brochure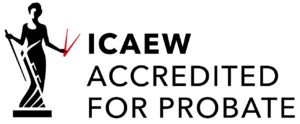 ---
---
Will Writing
Having a will is an important first step in your inheritance tax planning. A will is a legal document that sets out your wishes regarding distribution of your assets, as well as the care of your children after your death. It is estimated that more than half of British adults have not made a will and you are likely to be among them. One of the most important things to consider when writing a will is who is going to inherit your estate.
---
What is in a will?
In your will, you can set out:
who will benefit from your estate
who will look after your minor children (or even your pets)
who will handle your estate and carry out your wishes (the executor)
which charity will benefit from your estate
your funeral wishes
---
Your will would often include an inventory list of the assets you want to distribute, for example:
properties, such as your house, investment properties or land
stock market investments, such as shares, bonds and funds
your savings, valuable objects, such as jewellery
sentimental items, such as books, clothing, ornaments
---
When someone dies without any planning or without a will, the rules of intestacy will decide how the estate will be shared out, which means decisions about your estate will be in the hands of judges. Without a will, you have no control over what happens to your estate.
---
---
Inheritance Tax Planning
Inheritance tax planning is the process of designating who will receive your assets and handle your responsibilities after your death. The goal is to ensure beneficiaries receive assets in a way that minimizes the various taxes involved.
Reducing Inheritance Tax
Inheritance tax is a tax on the estate (the property, money and possessions) of someone who has died. The inheritance tax rate is currently at 40% in the UK. Early tax planning can help reduce the amount of inheritance tax payable on your estate and make sure they are protected and secured for your loved ones.
---
Inheritance tax can be reduced by, for example by:
leaving your estate to your spouse or civil partner
putting your assets into a trust for your heirs
giving gifts while you are alive
leaving part of your estate to charity
using life insurance to pay the tax
paying into a pension instead of a savings account
the use of property allowances
business exit strategies
---
What we can help?
With in-depth experience in tax accounting, the tax specialists at P & Co can help you meet your estate planning needs and help you apply the various inheritance tax exemptions, thresholds, reliefs and allowances available and help you navigate the complex rules around nil rate bands, residence nil rate bands, planning issues for spouses and children, and other complex issues.
Our dedicated and experienced tax experts are most suited to give you advice on inheritance tax planning, particularly if you have complex financial needs, for example:
you are a non-UK domicile person
you have properties and assets outside the UK
you own a business (whether as a sole trader, owner of a limited company or partner in a partnership)

P & Co will review your net financial situation, alongside your future needs to help advise you to determine the most effective way to protect your assets. All of these require careful planning over an extended period – so the sooner you start to think about inheritance tax planning, the better.
---
---
Probate Service
Applying for the legal right to deal with someone's property, money and possessions (their 'estate') when they die is called 'applying for probate'. If the person left a will, you will get a 'grant of probate'. If the person did not leave a will, you will get 'letters of administration'. You normally have to pay at least some of the tax before you are granted probate.
---
The probate process usually involves:
applying for probate or administration
drawing up final estate accounts
working out your inheritance tax position
collection and distribution of estate assets
selling or transferring property
closing the deceased's bank accounts
paying off debts
If your estate is complex and requires the sale and distribution of property or overseas assets, the amount of work involved can be an added burden to your loved ones during a time of grief.
---
---
---

---
Your executor of choice
By appointing P & Co as an executor (a party you nominate in your will to carry out your wishes) or administrator of your will, we can reduce your administrative burden by handling the paperwork on your behalf. And if you are the executor or administrator of a large, complex estate consisting of multiple assets and investments, we can help take up the responsibilities of navigating through the probate procedures and manage the whole process for you.
Our knowledgeable and experienced advisors can provide you with tailor-made probate solutions to fit your unique financial needs to protect your wealth and maximise the benefits for your family and other beneficiaries.
---
---
P and Co Probate is a trading name of P and Co Services Ltd and registered in UK under Company Registration No: 13197417 . The registered office is 18 Ensign Street, London E1 8PA, UK
---
Diversity Statement 2021
P and Co Services Ltd is a 2-partner company and both have completed the Probate diversity questionnaire provided by ICAEW.
Both are male Chartered Accountants with appropriate professional qualifications, 1 in the age band 35-44 and the other in the 65-74 age band.
Neither have a disability and both are Asian Chinese of heterosexual orientation.
The company is still in its infancy with 2 directors and no staff employed. If the company needs to recruit in future, it is intended to have a diverse workforce based on skills of the candidates applying.
---